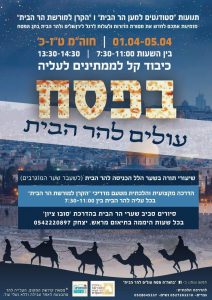 In recent days, the Temple Mount groups; "Students for the Temple" and the "Temple Mount Heritage Foundation" have intensified their call for extremist settlers to storm al-Aqsa Mosque during the Passover days from Sunday, April 1, 2014, until Thursday, 5.4.2018.
The announcement states that the incursions would be intensified during the morning and evening periods from 7:30 am by a large number of Zionist settlers. Temple groups will serve food and drinks at the Mugrabi Gate to accommodate the radical Jews.
These announcements came after the Temple groups have received guarantees from the 'Israeli' police to facilitate the storming into al-Aqsa Mosque and to ensure the entry of hundreds of extremist Jews during the Passover period.